The CEO & Director General of The King Hussein Cancer Center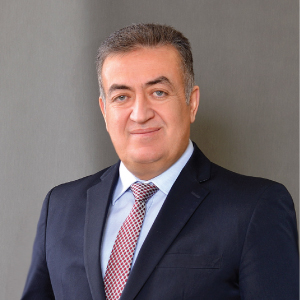 Asem H. Mansour, MD, has served as CEO and Director General of Jordan's King Hussein Cancer Center (KHCC), the largest standalone comprehensive cancer center in the Middle East, since 2012. In this role, he leads over 3000 staff members, including 400 oncologists and consultants in executing KHCC's vision to provide the highest quality care to cancer patients throughout the region.
Dr. Mansour's affiliation with KHCC dates back to 1998, when he was appointed Chairman of the Department of Diagnostic Radiology, and subsequently led the department to become one of the most advanced diagnostic imaging facilities in the Kingdom, with highly qualified staff and state-of-the-art machinery. 

In 2006, Dr. Mansour became KHCC's Deputy Director General and was promoted in early 2012 to be the Center's Director General and the Executive Chairman of the Jordan Breast Cancer Program (JBCP), a national program concerned with activating early detection of breast cancer by improving the quality of services provided across Jordan.

In 2017, Dr. Mansour led the execution process of an 84,000m2 expansion flourishing into life and doubling KHCC's treatment capacity. He oversaw the commissioning of new facilities including the innovative Diagnostic and Treatment Facilities, designed to serve physician recruitment and capital construction and improving its existing capacity for superior patient care by introducing the new strategy of Institution Hospital Information Technology. 
Dr. Mansour brought an impressive depth of his experience while leading the nursing and the quality management teams, as KHCC became one of the ten most elite international hospitals, and the first Oncology Specialized Center outside of USA to be earning the prestigious Magnet® distinction from the American Nurses Credentialing Center (ANCC) in 2019.

Later in the same year and under his guidance, KHCC also became an AHAARP (Association for the Accreditation of Human Research Protection Programs) fully accredited academic institution.

A renowned certified Diagnostic Radiologist with a subspecialty fellowship in Neuroradiology (ESNR), Dr. Mansour earned his M.D. from the Vitebsk Medical Institute, School of Medicine. He successfully pursued a fellowship through the Royal College of Radiologists (FRCR- London) and also holds a Master degree of Medical Management (MMM) from the Carnegie Mellon University, USA.

Dr. Mansour is a columnist, an active reviewer, and has co-authored in over 50 peer-reviewed publications and prestigious medical journals.