Dr. Hikmat Abdel-Razeq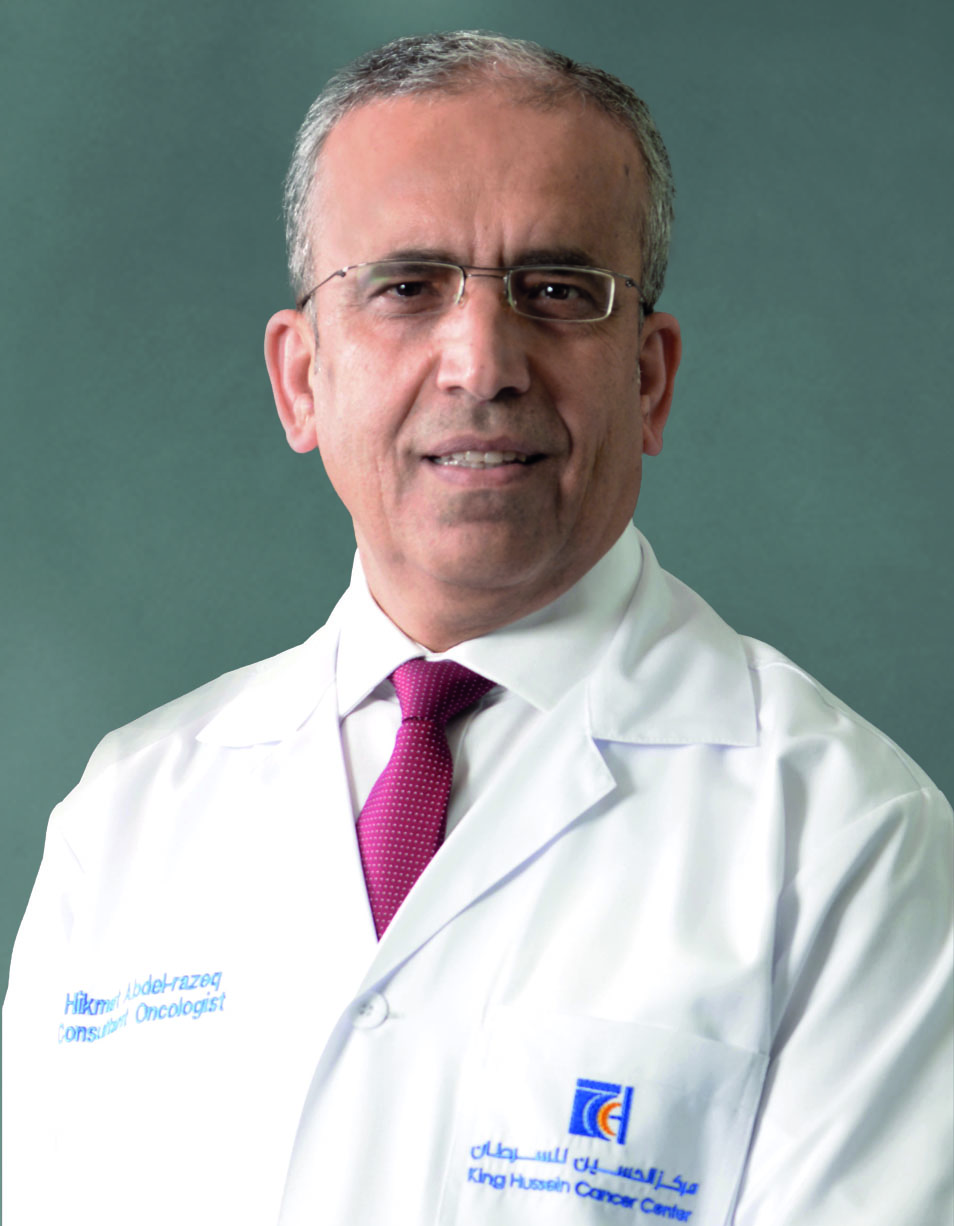 Dr. Hikmat Abdel-Razeq is the Chief Medical Officer and Deputy Director General of the King Hussein Cancer Center (KHCC), where he also serves as Chairman of the Department of Internal Medicine. Since Dr. Abdel-Razeq joined KHCC in 2004, he has taken several strides to improve the provision of services in Medical Oncology and Internal Medicine.
Prior to joining KHCC, Dr. Abdel-Razeq was the Head of Hematology and Medical Oncology at King Fahd Armed Forces Hospital in Jeddah, Saudi Arabia (1999-2004). He was also a consultant Internist, Hematologist and Medical Oncologist at Detroit Mercy Hospital in Michigan for two years.
Dr. Abdel-Razeq earned his Bachelor of Medicine and Bachelor of Surgery from the University of Jordan in 1988, after which he joined Jordan University Hospital and then New York Medical College for residency training in Internal Medicine, which he completed in 1993. He also completed subspecialty and fellowship training in Hematology and Medical Oncology at the Cleveland Clinic Foundation in Cleveland, Ohio (1993-1996), and then served as a Special Senior Fellow for one year in the Bone Marrow Transplantation at the same institution.
Dr. Abdel-Razeq holds specialty certificates from the American Board of Medical Oncology, the American Board of Hematology, and the American Board of Internal Medicine. Currently, he chairs KHCC's Medical Board and is a member of both the Executive and Quality councils at KHCC.
Dr. Abdel-Razeq established and chaired KHCC'S Credentials and Privileges Committee. He also serves as a board member on many institutional, local and regional committees and councils. In addition, Dr. Abdel-Razeq is a member of the American College of Physicians, the American Medical Association, the American Society of Hematology, the American Society of Clinical Oncology, the European Society of Medical Oncology, and the International Society on Thrombosis and Homeostasis.
Dr. Abdel-Razeq is the author of over 100 peer-reviewed articles and publications, and he has authored a number of books and medical references specializing in hematology, thrombosis and medical oncology. In addition, Dr. Abdel-Razeq is an expert reviewer for many internationally-renowned medical journals. He has received several awards and honors throughout his academic and professional careers in Jordan, Saudi Arabia and United States, including the King Hussein Cancer Research award in 2021.
---